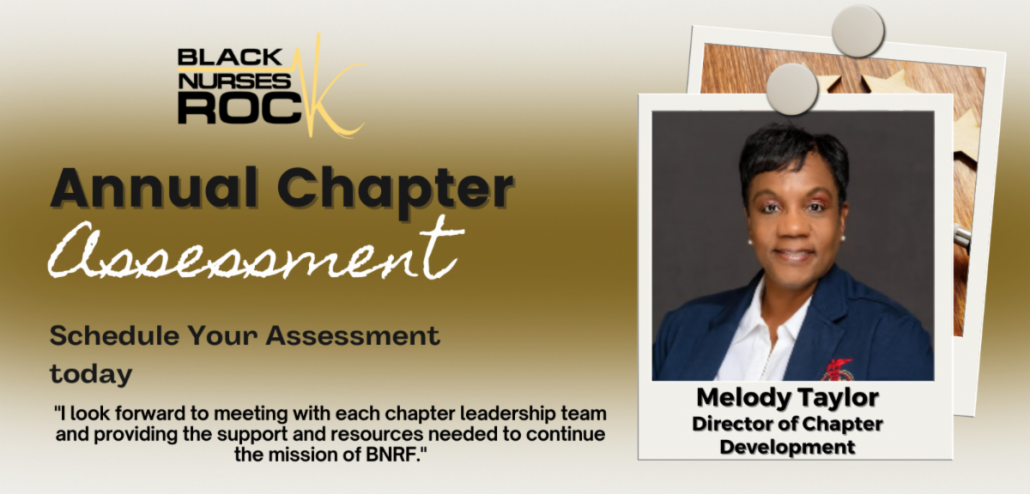 Happy New Year Black Nurses Rock Foundation Chapter Leaders! It's a perfect time for a new start in our communities. Starting fresh will allow us to make peace with the past and plan to move forward continuing the mission of BNRF. To continue our mission, we will meet with each chapter leadership team to learn the state of affairs with each chapter, offer support and resources, and identify opportunities for growth and development.
Beginning February 1 to March 24, Chapter Annual Assessments will be conducted. The organization is growing, and to ensure you have all the tools and resources to be successful, this assessment will help BNRF learn how to assist your chapter. These meetings are mandatory. Chapters out of compliance will not be able to provide community service until the assessment has been completed.
By clicking above, your chapter leadership team can book a meeting at a time that is convenient for you.

For additional support, "Refresh and Replay" virtual events will be available every Sunday starting in February. One Sunday a month, you can book time to share, learn, grow as a chapter and develop your personal leadership role.
Sincerely,
Melody Taylor MSN, RN, CCM
Director of Chapter Development
Black Nurses Rock Foundation
https://blacknursesrock.net/wp-content/uploads/sites/41/2022/02/Chapter-Annual-Assessment_square.png
576
668
Tom Toy
https://blacknursesrock.net/wp-content/uploads/sites/41/2017/09/BNR_Logo_for_header.png
Tom Toy
2022-02-16 16:49:10
2022-02-16 16:56:57
2022 Chapter Annual Assessments Are Open