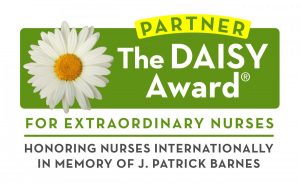 Congratulations to Kelly Robinson, President of Black Nurses Rock Foundation Twin Cities Chapter and her awesome chapter team members for being awarded the FIRST EVER Honor for a Chapter of Nurses: ADVANCING HEALTH EQUITY AWARD from The DAISY FOUNDATION!
This award was personally presented to Kelly and her team on Saturday, April 24th during Part 1 of BNRF's Nonprofit Management Training Symposium.  This award was presented by Ms. Bonnie Barnes, one of the Founder's of the DAISY AWARD. This is the very first time an award like this was given to a chapter in our community! To learn more about the BNRF Twin Cities chapter, check out their facebook page here: https://www.facebook.com/BNRTwinCitiesChapter/
During September 2020, the DAISY Foundation welcomed the Black Nurses Rock Foundation to The DAISY Community of Supportive Associations. We believe our partnership is a perfect fit to mutually support health equity initiatives including recognizing nurses around the world who deliver compassionate care to the most vulnerable communities.
Traditionally, the DAISY award is given to nurses internally within hospitals and the health care system. As part of a new pilot program to recognize excellence in nursing in our local communities, we are happy to officially open nominations for the 2020 BNRF DAISY Chapter Award!
About the Award
The 2020 BNRF DAISY Chapter Award recognizes the efforts of nurse chapters for their continuous community services during the coronavirus pandemic in 2020. Up to two chapters can be chosen to receive this award.
How to qualify for the award:
The chapter must have provided exceptional care and services to patients, families, and the communities.
The chapter demonstrated exceptional efforts to serve underprivileged individuals effected by social determinants of life with a focus on health disparities throughout communities.
This chapter has shown dedication, commitment, bravery, compassion, and selflessness.
The chapter must be out of the probationary period
All chapter officers must be active members of BNR National and in good standing