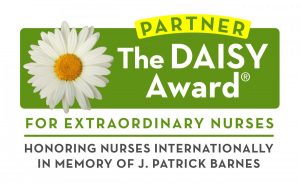 Thank you to all our members that participated in the 2020 Inaugural BNRF DAISY Chapter Award earlier this year. With the success of that award, we are happy to announce that BNRF will now open nominations to the community as we recognize our individual nurses and their chapters.
About the award:
The 2021 BNRF DAISY Summer Awards recognizes the efforts of nurses and chapters for their continuous community services during the beginning of this year. Using a shared online form, both an individual nurse or a team/chapter can be nominated by the community.
How to qualify for the award: 
The nominee provided exceptional care and services to patients, families, and the communities.  
The nominee demonstrated exceptional efforts to serve underprivileged individuals effected by social determinants of life with a focus on health disparities throughout communities.  
The nominee has shown dedication, commitment, bravery, compassion, and selflessness.  
If a chapter, the nominee must be out of the probationary period. All chapter officers must be active members of BNR National and in good standing. 
How to nominate: 
Nominations are now open to the community and the award can be advertised during any community event. The same online form can be used to nominate either an individual or chapter. The link you can share is below:
QR Code Nomination Poster:
Chapters can also download and print out the nomination form below with a special QR code for online nominations.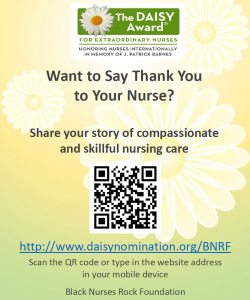 Click here to download the poster.
 
About The DAISY Foundation
The DAISY Foundation is a not-for-profit organization, established in memory of J. Patrick Barnes, by members of his family. Patrick died at the age of 33 in late 1999 from complications of Idiopathic Thrombocytopenic Purpura (ITP), a little known but not uncommon auto-immune disease. (DAISY is an acronym for Diseases Attacking the Immune System.) The care Patrick and his family received from Nurses while he was ill inspired the creation of The DAISY Award® for Extraordinary
Nurses, an evidenced-based means of providing Nurse recognition and thanking Nurses for making a profound difference in the lives of their patients and patient families.
In addition to the DAISY Award for Extraordinary Nurses, the Foundation expresses gratitude to the nursing profession internationally in over 4,500 healthcare facilities and schools of nursing with recognition of direct care Nurses, Nurse-led Teams, Nurse Leaders, Nurses Advancing Health Equity, Nursing Faculty, Nursing Students, Lifetime Achievement in Nursing and through the J. Patrick Barnes Grants for Nursing Research and Evidence-Based Practice Projects, Medical Mission Grants their new Health Equity Grant program. More information is available at http://DAISYfoundation.org.
About Black Nurses Rock
The Black Nurses Rock Foundation is an organization with a focus to foster a positive environment of professional growth and development. They provide support and mentorship to nurses to elevate the profession and improve their communities. As the trusted voice for Black Nurses, they not only facilitate communication, but also act as a catalyst of change, bringing light and life to vital issues. Black Nurses Rock is the second national black nurse organization and represents over 174,000 African American nurses and students from the USA, Canada, Eastern Caribbean, Africa, Japan, and Germany.
More information available at https://blacknursesrock.net/
https://blacknursesrock.net/wp-content/uploads/sites/41/2020/09/daisy-logo.png
210
364
Tom Toy
https://blacknursesrock.net/wp-content/uploads/sites/41/2017/09/BNR_Logo_for_header.png
Tom Toy
2021-09-09 14:37:49
2021-09-09 14:37:49
Nominations are open for the 2021 BNRF Summer DAISY Awards!